Introduction to Mantra DAO and its role in the cryptocurrency market
Mantra DAO is a community-governed DeFi platform providing decentralized financial services aimed at rendering the use of a DAO more user-friendly and adapted to a wider audience, while providing an alternative to traditional finance. A DAO stands for Decentralized Autonomous Organization. It is decentralized because there is no area from where the organization is controlled and its autonomy is due to the fact that its operations are governed by smart contracts, which eliminate the need for human involvement. The Mantra DAO platform is composed of the following features:
The possibility to stake (generating interest on savings), borrow or lend cryptocurrencies, and earn interest on the deposited assets.
The possibility to vote with the governance token called OM, to favorably change parameters such as interest rates or inflation levels.
The possibility to gain benefits thanks to a reputation protocol called KARMA, which allows a user with higher KARMA levels to have more voting power or to increase his/her earnings.
The possibility to earn rewards in a saving game called MANTRA pool, in which the users exchange OM tokens for an entry ticket to have the chance to be randomly selected and win a part of the prize pool.
The possibility for retail staking, institutional delegation and node management, which allow big funds to join the ecosystem and manage nodes through which transactions are validated.
The main goal of Mantra DAO is to facilitate access to decentralized financial services and help it grow through providing different benefits to its members and turning them into active stakeholders. Mantra DAO has a platform called Mantra Omniverse, which is aimed at being the most user-friendly possible thanks to a well-organized interface and secure environment. It is comprised of four different stacks: Dao, Nodes, Chain, and Finance.
As explained before, the Dao stands for community-driven organization. The Mantra nodes are the ones that include retail staking, institutional delegation, nodes management, and white label validator operations, which are companies wishing to outsource branded nodes. The chain stack is the protocol for regulated assets in the Cosmos ecosystem, which combines the flexibility and reliability of the Cosmos and Ethereum ecosystems. And finally, the Mantra Chain allows users to borrow, lend or use tokenized securities (the equivalent of bonds, equity, or investment funds on the blockchain), which are services that the platform aims to offer with full transparency and accessibility.
Current price of MNT (Mantra DAO's token)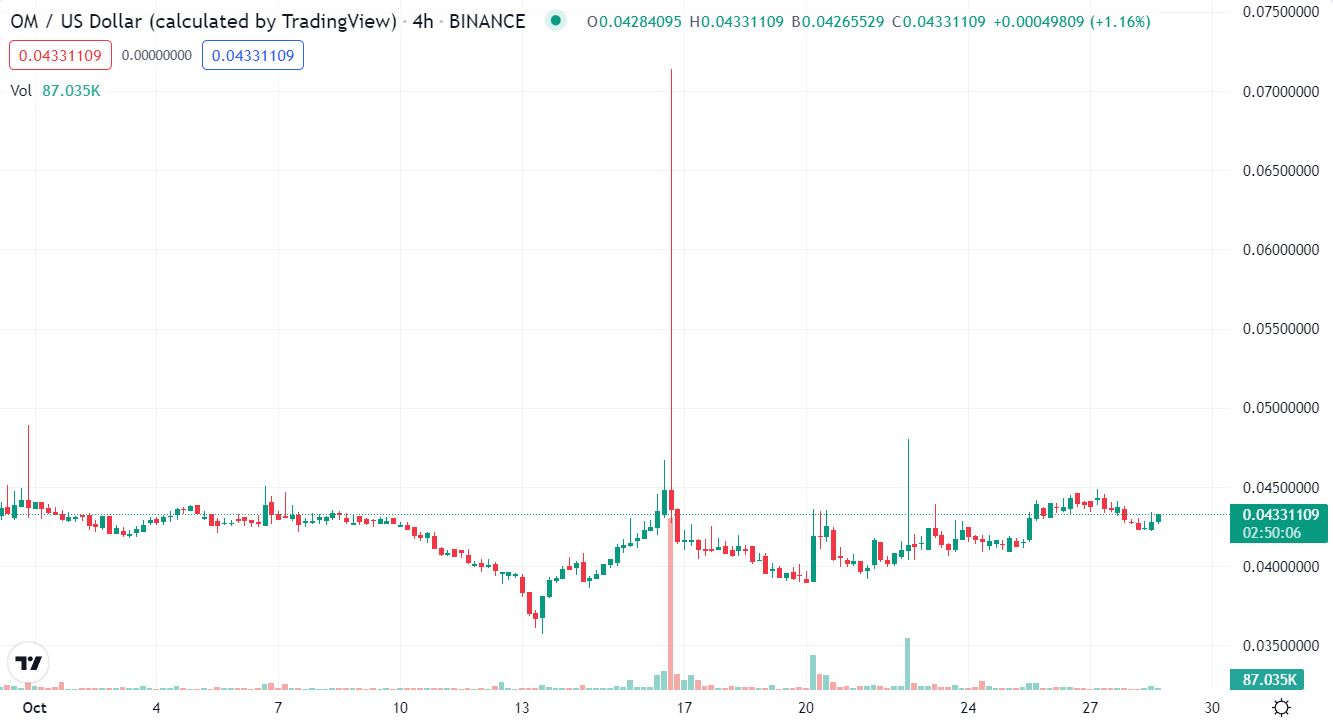 On October 28, 2022, the price of MANTRA was $0.042 USD, with a $1,312 USD 24-hour trading volume and a market cap of $22,696,682 USD. It has a maximum supply of 888,888,888 OM coins and a circulating supply of 530,116,596 OM coins. The project has a very small market cap, which gives it room for growth and the possibility of good return on investment, but such a small market cap also allows for market manipulation.
It is important to state that Mantra Dao has a burning mechanism and continuously buys back tokens to remove them from circulation. Every OM token that is used to buy a ticket entry for the Mantra pool, or to pay interest on a loan taken out through the platform, is also sent to their burn wallet, which is emptied every quarter with all the transactions appearing on the Rio chain.
Recent news and developments within the project
Concerning the latest news for Mantra, there was the launch of HeliSwap, which is one of the first decentralized exchanges on the Hedera network (Hbar)! Being a joint partnership between Mantra and Limechain, it supports swaps between multiple cryptocurrencies on the Ethereum and Hedera blockchains, that weren't possible before the creation of HeliSwap.
Another recent news was the possibility of staking OM tokens on Binance, the most widely used exchange in the world – great news for the project as it allows many new users to interact with the OM token and grow its user base.
Expert opinions on MNT's price prediction
Divergent viewpoints exist on pricing forecasts for Mantra DAO for the remaining months of 2022. By the end of the year, PricePrediction.net predicts a decline to $0.033102, while WalletInvestor predicts $0.00043. Other experts, like those from TradingBeast, are more optimistic about the future price of Mantra DAO and mention a price as high as $0.057818 in December.
According to TradingBeast's Mantra DAO price projections for 2023, the coin will cost more than $0.076739 by December. When predicting Mantra DAO's future, WalletInvestor says it will continue to increase and its price will eventually reach $0.079532. PricePrediction.net, on the other hand, consistently projects a price fall for Mantra DAO, estimating values of roughly $0.009888 in 2023.
As you can see, the future price predictions for any crypto see divergent opinions on whether a cryptocurrency will increase or decrease in price. No one can really time the market, as too many factors may affect a cryptocurrency's price. So the best way to decide whether or not you are going to invest in a specific project is doing your own research and focusing on key metrics such as new exchange listings, the cryptocurrency use cases (the more there are the better), and daily volume.
Conclusion and overall outlook on Mantra DAO
To conclude this article, I would say that Mantra has a fair share of novelty, trying to make already existent services more accessible to an audience lacking the proper knowledge to use these services on other platforms. Mantra is trying to remove many barriers to entry in the decentralized finance world, which is a very nice initiative knowing that there are so many beneficial applications possible. Mantra also has multiple use cases for its OM token, which helps increase the demand for it and stabilize inflation.
FAQ
Where to buy Mantra DAO?
If you wish to buy Mantra, you can easily do so on a platform such as Binance.
How to buy Mantra DAO?
Go to this website https://www.binance.com/en.
Select a registration method. You can sign up with your email address, phone number, or Apple or Google account.
You will receive a 6-digit verification code in your email or phone. Enter the code within 30 minutes and tap [Submit].
You can now fund your account, either through a direct deposit and buying crypto from the platform, or with P2P trading, which allows you to send money and receive crypto from another user in a secure way.
When your account is funded, you can go to the market rubric on the top left side of the screen, then search for Mantra and click trade.
You can now select on the right side of the screen which pair you prefer, and then select the quantity of OM token you wish for with a limit or market buy order.
Congratulations! You now own OM tokens!
What is Mantra DAO?
Mantra DAO is a community-governed DeFi platform, providing decentralized financial services such as lending or borrowing crypto in a user-friendly way adapted to a wider audience.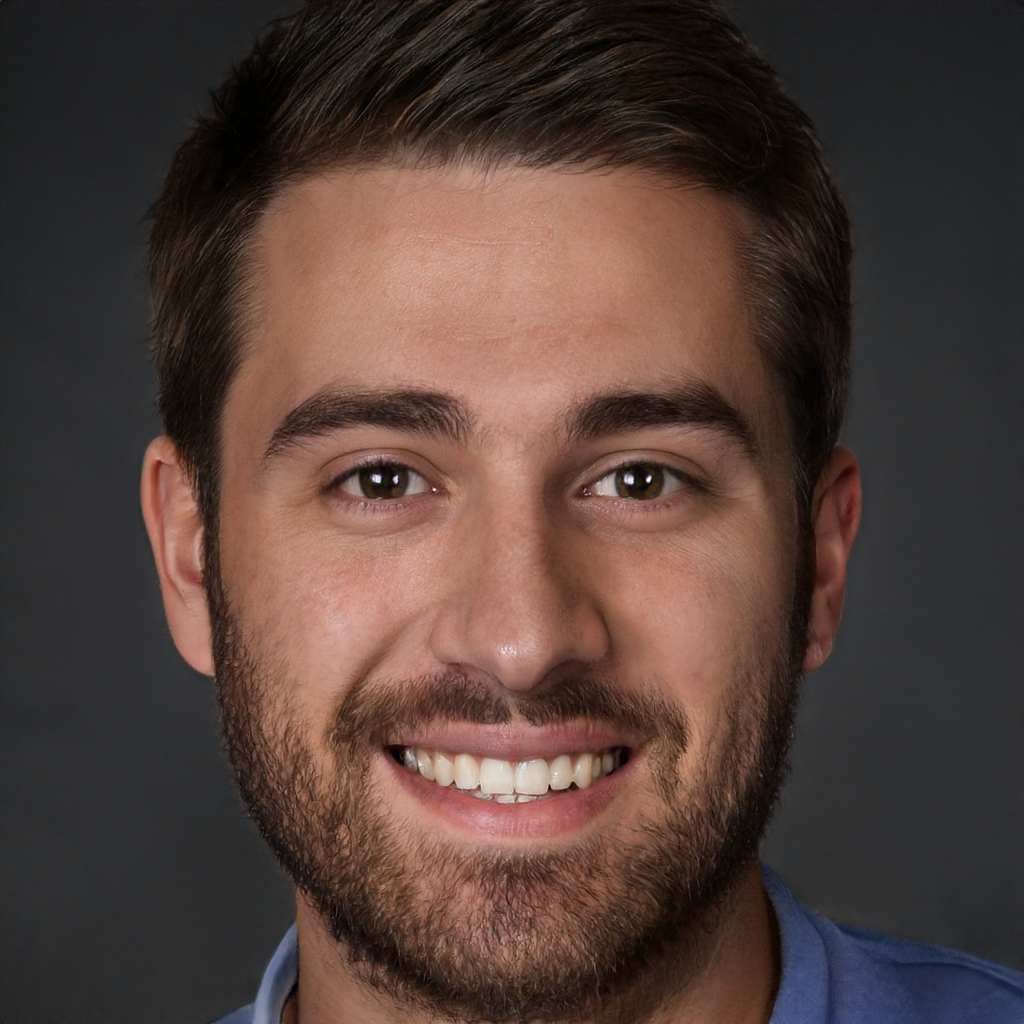 Jay is a data analyst and research writer. He works in the field of finance, decentralised finance, stock market, and business. He used to work as a finance consultant in Silicon Vally, after which he decided to reduce his stress levels and go on a less-thriving way. His favourite graphic novel is Hellblazer.